Location and Transportation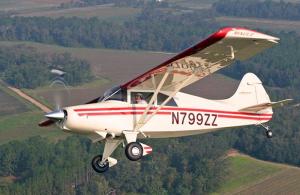 Location, Location, Location.
By looking at a map of the area, you can see that Moultrie is right in the middle of everything. Located in Central South Georgia, Moultrie is right in the middle of the growing Southeast market.
HIGHWAY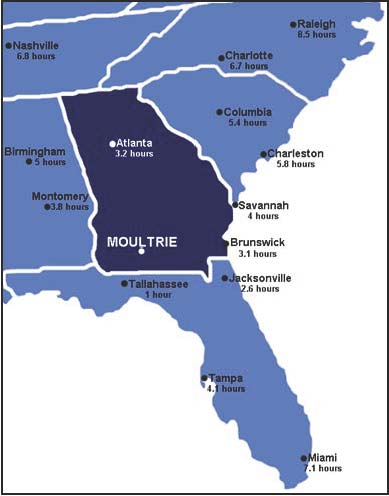 Moultrie is strategically located to provide service to the entire southeastern United States. Moultrie has an excellent transportation network with direct connections to I-75 via US 319 north in Tifton (24 miles), Georgia 37 in Adel (19 miles), and Georgia 133 in Valdosta (36 miles). I-75 is a major interstate highway providing fast travel north to Atlanta and south to the Florida market. U.S. 82 and U.S. 84 are both four-lane highways that run east to the Georgia coastal cities and ports and west to Alabama. I-10 is 53 miles south and runs unimpeded from Jacksonville to Los Angeles.
The Moultrie East By-Pass provides a convenient transportation hub around the City, connecting all state and federal highways. As part of the Governor's Road Improvement Program (GRIP), the four-laning of U.S. 319, which serves as a major connection between I-75 and I-10 was completed in 1999 and GA 133 is the next major DOT project for South Georgia.
AIR
Moultrie is approximately one hour north of the Tallahassee Airport, which is served by U.S. Air, Delta, and several regional carriers. Valdosta and Albany both offer ASA Delta service less than one hour away.
The Moultrie Municipal Airport is located just south of town on U.S. 319. The airport offers a 5,150 foot runway with a VOR approach and a GPS overlay that provides for all weather approaches. The Moultrie Regional Industrial Park has an 10,000 foot runway that will be at your disposal for business purposes and can accommodate any corporate aircraft.
RAIL
Moultrie is served by the Georgia Florida Rail Network, which provides a direct connection to Norfolk Southern Railway in Albany and CSX Transportation in Thomasville. GFRN provides the flexibility and service of a local company.
PORTS
Moultrie is ideally located near three deep water ocean ports: Brunswick, Georgia – 150 miles; Savannah, Georgia – 191 miles; and Jacksonville, Florida – 127 miles. Each of these ports is accessible by highway and rail.